It's time to roll out my annual limited edition Christmas ornament.  This year it's MICE.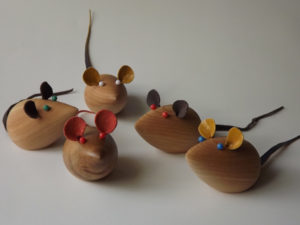 Cute, adorable, little critters with leather ears and tails, and beady little eyes – you'll fall in love with at least one.
These will be available at Eugene Holiday Market, booth 27 on Aurora Way, from Black Friday until the weekend before Christmas, or until we run out.
They can also be collected at Mosaic 331 at 331 Main St.  in Springfield, open Tuesday – Saturday noon to 5:30.